Search

Table of Contents

Extensions
Install language packs
Instructions
Language packs contain translated text messages of the application for various languages. For example German or English.
After installation of a new plug-in you might need to update an installed language pack. For example, if new text messages were added with the release.

Attention! Packages may not include executable files or PHP files. Take care of this before you proceed with the installation.
Following files and directories may be included in a package.
"languages/name.config"
"languages/name/*.config"
"languages/name/*/<graphics + HTML>"
To install an archive you got from the internet, do as follows:
Unpack the archive, which contains the language pack in the directory "languages/" of the application. Be careful not to overwrite files, unless you are in the process of updating a package to a newer version.
Then, upload your changes to the Internet with your FTP program.
A list of all installed language packs can be found in the administration menu (see figure).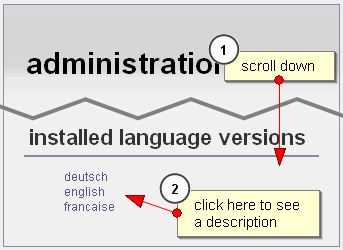 Figure: install new language file
The changes will take effect, the next time you start the program.
Troubleshooting
If you are not able to see a menu "installed skins", the probably the expert mode is not activated
If you can't activate the expert mode, check whether the access rights have correctly been set during the installation of the program. Maybe a profile file in the directory "config/profiles" is write-protected.
If you see the menu, but not the radio button, you do not have sufficient rights for the installation. Ask an administrator to install it for you.